The Lotus Dancers
Women who share and celebrate life's events through movement and music.
When the Lotus Dance Troupe developed in 1992, I had the task of choosing a troupe name. One that all the dancers in the group could relate to. Choosing a name that would be reflective of and embrace the diverse: styles of belly dance, dancers from all walks of life, ethnic groups, ages, sizes, beliefs, etc.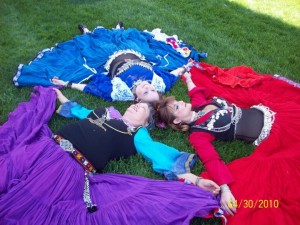 I think of humans as flowers in the garden of life. Plant life, as human life, is cyclical. It would be appropriate for the group to be named after a flower. A flower would be representative of the changing nature of the troupe, the individuality of its members and the troupe process as I have experienced it with various dance companies and troupes both Middle Eastern and Modern dance throughtout the years.
A flowerbed also reflects the diversity of humanity – various shapes, colors, life cycles, symbolism and sizes.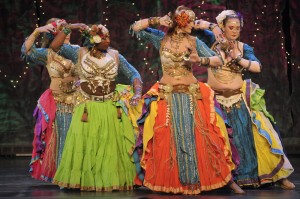 All flowers have a core or center; all are beautiful in their respective individualities. No two exactly the same yet both nourished by the earth and the sun.
The lotus flower has a special significance to me because of it's symbolism. I chose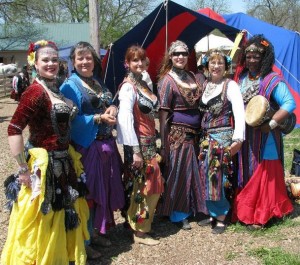 the name Lotus Dancers and the other dancers liked the name as well. The lotus symbolizes creativity, grace, mystery, and rebirth. The lotus flower opens each day and closes each night. As humans we experience a similar cycle.
As dancers we experience creativity through exploring new ways of moving and expressing our ideas and feelings. We experience grace as we develop our movement and listening skills. We marvel at our bodies as they respond to new ideas, new movements, new sensations, we share our skills, and we continually rebirth ourselves through these awesome experiences.
Both belly dance and the lotus flower can be traced to ancient times
Members of the Lotus Dance Troupe continue to explore their personal spirits, community, and celebrate life through the arts of, but not limited to, dance and music.
Della
Dance instructor
Artistic Director of the Lotus Dance Troupe
Meet the Dancers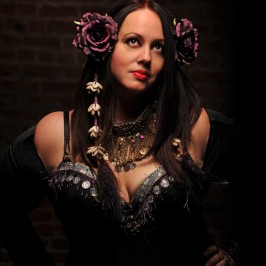 Agnayi is the Indic goddess of fire. Her name means "Fiery" her flame came to symbolize erotic energy.
I've danced in one form or another my entire life. For myself, Belly Dance is the most dynamic expression of a woman. It encompasses her passion, her strength, her vulnerability, her sensuality and her personal power to enchant and entrance her audience. It tells her story. For me, it's a direct connection with the divine and the finest form of self expression.
While Briska enjoys her job as an Orthotic and Prosthetic Technician, she Belly Dances for fitness, fun, and, of course, the costumes! Under her troupe's supportive tutelage Briska has nurtured and explored her creative spirit. From locations like the Orpheum Theatre in Omaha, Hoyt Sherman in Des Moines, and the Flamingo in Las Vegas to the small local stages, restaurants, and parks, Briska enjoys any performance. She's been dancing for 6 years and hopes that it's just the beginning.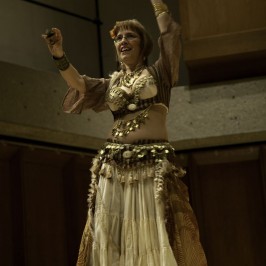 Kelia Zareen began her Middle eastern dance "career" in midlife, fulfilling a lifelong dream to dance. Although she studied modern dance briefly at Iowa State University, it wasn't until she encountered belly dance at one of Della's workshops, that she discovered her dance "calling." She became immediately hooked on this wonderful form of dance and it quickly became her passion. She began classes over eleven years ago, and has continued to this day.
For her, dance is a wonderful outlet of creativity, fitness, socializing with a diverse group of women, and fun! It was also her lifeline during the time of loss of her husband.
Her favorite dance form is tribal style, as she enjoys the group dynamic with her fellow dancers. She has performed with the Lotus Dancers for several years at Renaissance festivals, Nebraska Bellydance Spectacular, arts events, and dance workshops. She taught belly dance fitness classes at Iowa Western Community College until an injury sidelined her for a time. Now, her main focus is continually learning and improving her skills and performing with her Lotus Dancer peeps!
She is retired from a career in higher education at Iowa State University and University of Northern Iowa. When not enjoying her dance passion she practices her bass guitar so she can perform occasionally with her very musical family.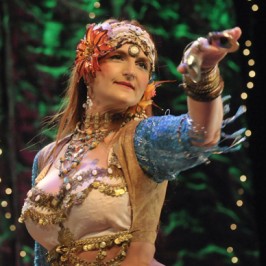 When Zoya decided to take belly dance lessons in 2004, she was looking for
a fun way to exercise. She soon learned that belly dance is exactly that –
a delightful way to tone your entire body without feeling like it's exercise.
She continued to discover the true beauty and art of belly dance through
the heart and expert training of Della, Omaha's most experienced and
accomplished belly dance instructor. Zoya soon began performing with
Della's dance troupe, the Lotus Dancers, and has enjoyed the privilege of
dancing with them ever since.
Zoya also enjoys teaching belly dance at ladies events, as well as
entertaining at local restaurants and receptions. Her dance focus is in
tribal fusion and cabaret belly dance styles.
When Zoya is not in costume, she can be found spending time with her
husband and two children or at a local senior living organization where
she is an executive assistant, as well as their staff and resident belly dance
fitness instructor.
"Whether you dance for yourself or for others, the beauty and joy which emerge
captivates and fills the heart." Zoya